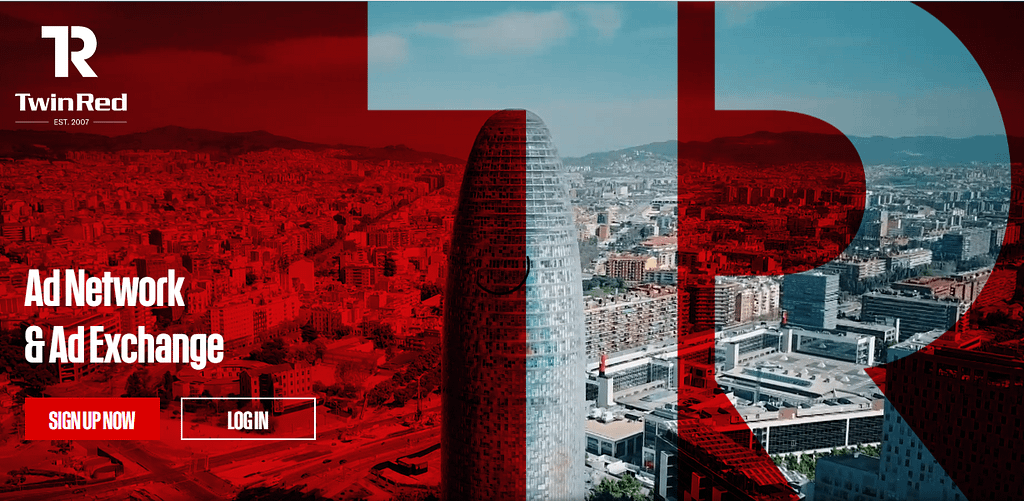 TwinRed, formerly known as DoublePimp, is an ad network that allows publishers to profit from their inventory through a single ad format: pop-under.
Any website that joins TwinRed will be able to run campaigns on mobile and desktop devices and provide a good CPM for those migrated sites. There are several different payment methods to consider. You can transfer money via wire transfer, PayPal, and Paxum. If you reach a minimum of $50, you can use it every month.
Added to its product is a self-service platform that makes it easier for those who like to make changes on their own to maintain activities.
Twinred Ad Types:
For Desktop & Mobile
Full Page Interstitials

Popunders / Leave Behind

Video Pre-Rolls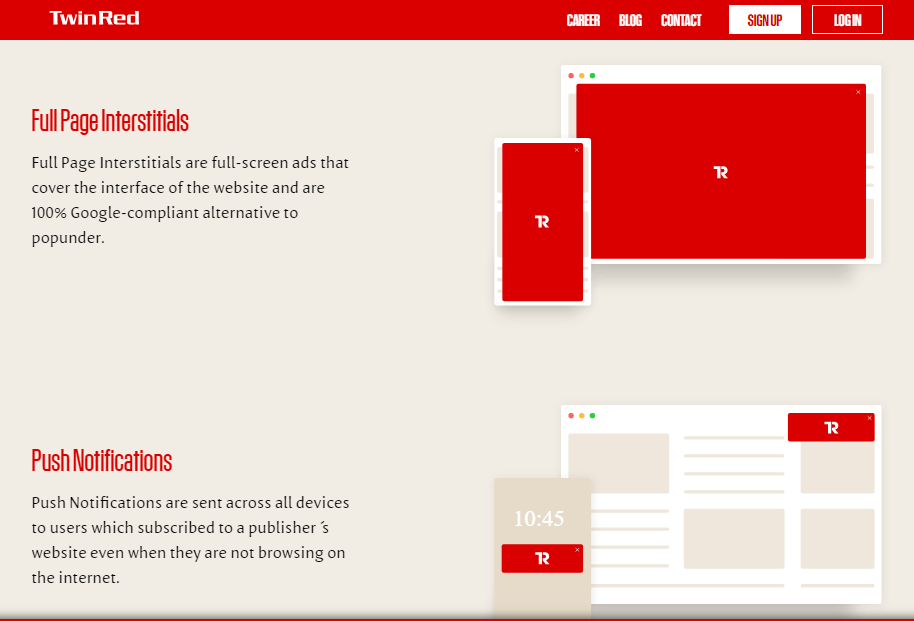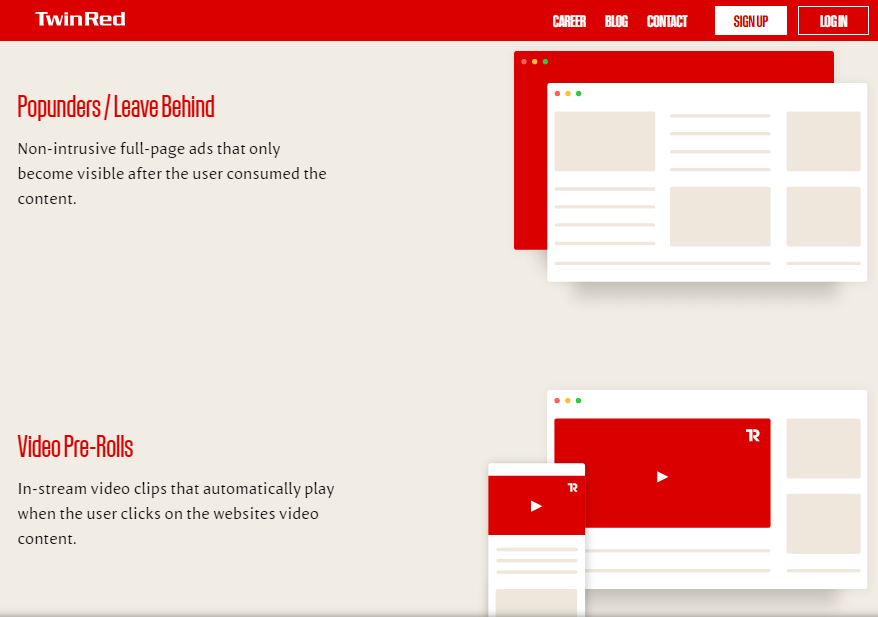 Twinred Review Payment Rules
Payment of TwinRed income can be obtained through three different methods: PayPal, Paxum, and wire transfer.
Funds earned through the platform will be provided to publishers within 30 days of the end of the month when the minimum income of $50 is reached. It's worth noting that this can only be used after the network has collected it from advertisers, so their failure to pay for the publisher's work may result in payment delays. TwinRed's cost is 50% of its online advertising revenue.
Although nothing in its terms states that there will be a fee for using any available payment method, publishers should be prepared to pay for certain additional fees when transferring funds to some of these options. For example, PayPal usually charges 3-5% of any amount loaded into its platform. For wire transfers, this can scale from free to high fees, depending on the institution.
Although many elements of the TwinRed service match its many competitors, it greatly improves the quality of support.
Unfortunately, for publishers who have questions about the service or its activities, email is still the only option.
Although the network does have a self-service panel that allows users to make changes without the help of a manager, it is easy to see any interruption to the network, which, in general, may cause problems.
At the time of writing TwinRed does not have an active referral program.
Pros:
Provide reliable customer support via Skype

A self-service platform allows manual adjustment of activities
Cons:
Labels are only provided by the user's manager

Lack of referral programs to help publishers maximize their revenue
| | | | |
| --- | --- | --- | --- |
| TwinRed adult | Popunder CPM | Banner CPM | In-video CPM |
| France | 1.180 | 0.008 | 0.341 |
| Germany | 1.140 | 0.016 | 0.417 |
| USA | 1.112 | 0.030 | 0.578 |
| Brazil | 1.191 | 0.010 | 0.550 |
| China | 0.666 | 0.0 | 0.290 |
| Indonesia | 0.696 | 0.002 | 0.131 |
| Bangladesh | 0.573 | 0.001 | 0.079 |
| India | 0.131 | 0.002 | 0.305 |
Twinred Terms, Conditions
TwinRed provides its publisher with a complete list of terms, which explains its position on certain issues to some extent. However, there is a certain degree of ambiguity in this document. For example, any publisher who joins the platform agrees that their revenue may be deducted due to rate changes, "advertiser discrepancies" or traffic fraud.
The terms and conditions on this site are also shorter than those on other networks, which is why it might be an idea for the publisher to get in touch with TwinRed to clarify its position on any given issue.
The network clearly prohibits certain forms of content from appearing on the pages of its publishers. These include articles deemed to promote illegal activities, racism, spam, hatred, mail fraud, and investment opportunities.
Publishers must also agree not to run "bots" or "spiders" to enhance their website reports for monetary gain. In addition, each site must cooperate with the network to ensure that the "quality" of the inventory being traded is good, and the advertising code (whether new or updated) must be implemented within five working days of distribution.
For publishers who are accustomed to running pop-up advertising campaigns, especially those in the adult niche market, TwinRed is a network that not only has its own in a highly competitive market.
The platform is built on a solid foundation of good CPM, and adult websites enjoy the highest CPM. The minimum income that attracts some smaller garments is relatively low, and a monthly payment helps them make money relatively frequently. These are available through PayPal, Paxum, and wire transfer, and also help publishers find options that suit them.
Elsewhere, we have a self-service panel that makes event maintenance an easy navigation task, but some elements of the platform did not get high scores. We found that the service was slow and there were few options in the dashboard, indicating where it can be found. There is currently no referral program that can earn additional income, and the lack of alternative advertising formats is useless to attract websites that display various advertising resources.
Even its terms and conditions look pretty bad, and in general, the site benefits from a more open door when it comes to what it really offers.
In addition to these areas that clearly need improvement, TwinRed is a network, and its products should resonate with adult publishers who want to get a lot of money from the traffic they generate.
Twinred Review 2021
Twinred Review Publisher 2021
Twinred Review Ad Network
Twinred Review CPM Rates 2021
Twinred Review Minim Payout 2022
Twinred Review for Publishers
Twinred Review 2021
Twinred Ad Network Review 2022
Twinred Ads Review publihsers 2021
Ad Netwotk Twinred Review 2022
Answers & Questions (FAQs)
What is the history of Twinred?
TwinRed has existed for more than ten years and evolved from the name DoublePimp. They have three international offices; one in Los Angeles, one in Barcelona, and the other in Budapest.
The company has an interesting background story because the name TwinRed does not always exist. In fact, after the management change, the name TwinRed was born, because the employees at the time always wore red and were called Team Red. Then it follows the "double" trend of its founding company Double Impact.
About The Author

Sheikh