Are you tired of attempting hundreds of SEO tactics, purchasing a plethora of organic SEO services that offered guaranteed Google first-page rankings, and praying to the Google Gods just to be disappointed?
You've come to the right place – your quest is now complete.
     Simply follow this 7-step method to rank on the first page for keywords that will drive traffic and sales to your website.
1. Know where you Stand in Google's eyes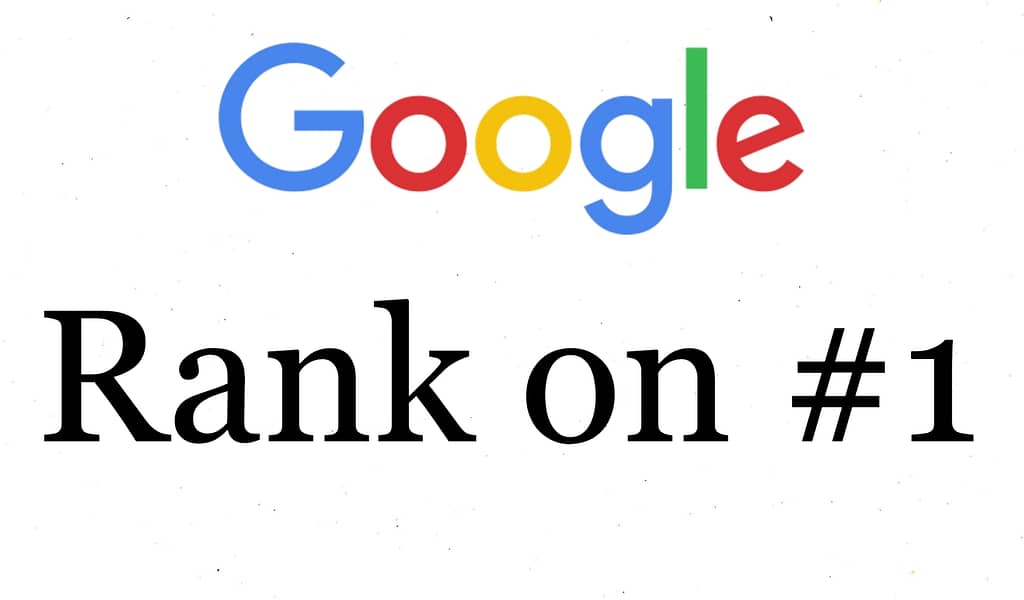 It's important to understand the authority of your website. It decides the entirety of your SEO strategy.
    The authority of your domain in Google's eyes decides which keywords can attract the most traffic to your site.
     If your site has a lot of authority, you should go after difficult keywords that bring in a lot of traffic, but if your domain isn't really SEO-friendly, you should go after keywords that bring in less traffic but are easier to rank for on a poor domain. In comparison to newer websites, older websites typically have more authority and backlinks.
A simple 3 step process to determine your domain authority
Visit 

Moz.com Link explorer

 and create a free account.

Enter your site Url in the explorer.

Note down the domain authority
➡ Top 5 Best Adsense Alternatives for Publishers
2. Keyword research smartly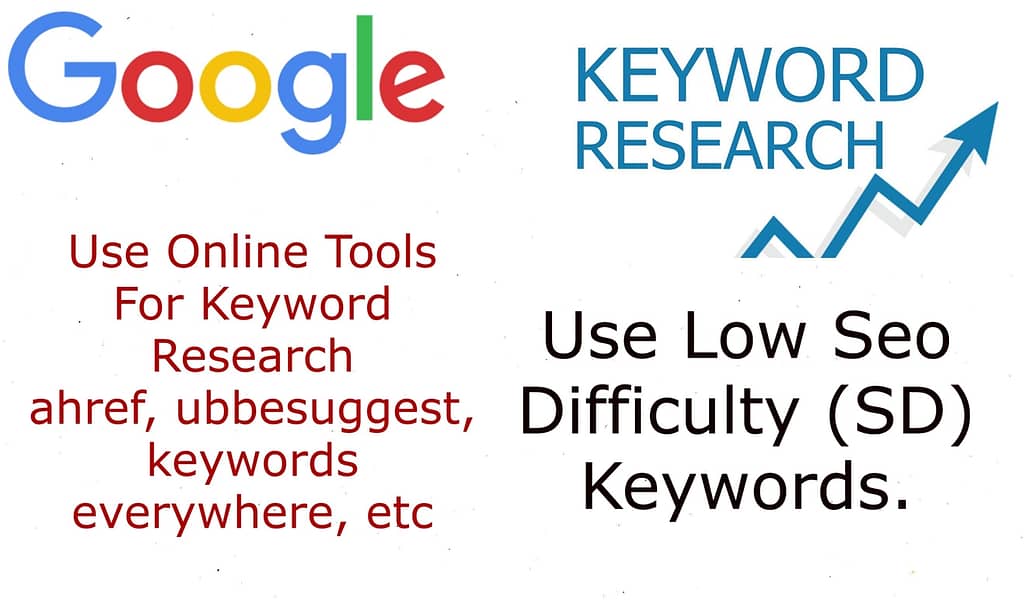 A keyword analysis is the method of determining the best keywords to rate for in order to attract targeted traffic.
    There are numerous free and paid resources available to assist you with this operation, but for the sake of simplicity, let's look at how you can do it for free:
    First and foremost, brainstorm 15-20 keywords that people would use to find your product or service.
    Be sure to use keywords for both buyer intent and knowledge intent. At least three words should be included in each keyword.
For example, if I owned an eCommerce store that sold badminton equipment, I would create buyer intent keywords such as:
Cheap badminton rackets

Badminton rackets for kids

Plastic shuttlecocks
& some  information intent keywords like:
How to hold a badminton racket properly

Easy badminton trick shots

Badminton court dimensions
➡ Best 7 ways to earn money online
3. Figure out the Search intent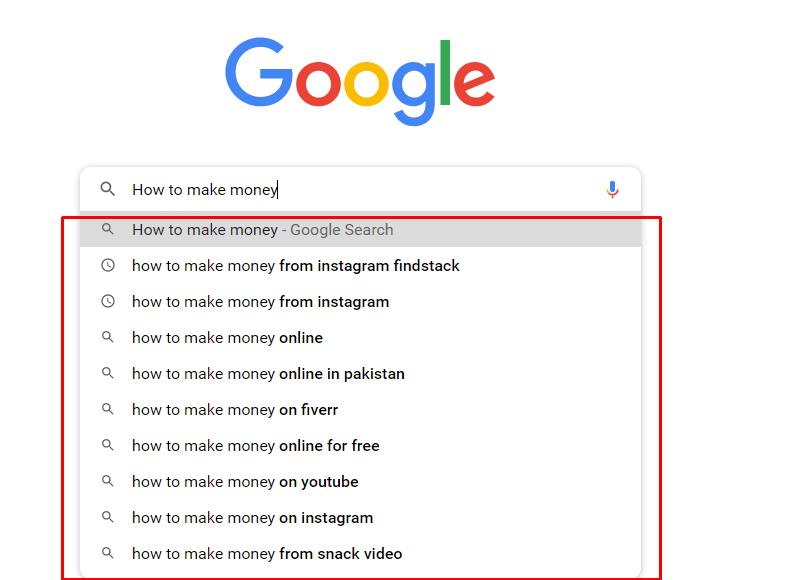 Once you've determined your top five keywords, you'll need to determine the search intent behind them. You'll know what kind of content you need to build to rank if you can decode the search purpose.
Simply type the keyword into Google and press Enter.
Now we must determine two things:
      What is the most popular type of result from Google's ten options? Is it blog posts, videos, Product pages, pdfs, photographs, or something else entirely?
and what is the intent of the searcher:
Informational intent –  Someone looking for information. Example – How to email someone, what is an email.

Transactional/Buyer Intent – Looking to buy something. Example – Buy web hosting, get insurance quotes.
      Videos and blog posts are the best formats for keywords with informational purposes, while
     Product/service pages and landing pages work well for transactional purpose keywords.
     Navigational purpose keywords only function if the searcher is searching for a specific site or organization.
     Even if you rank for "Facebook," you won't get much, if any, traffic because almost all of the traffic will go to facebook.com in the search results.
4. Create SEO optimized content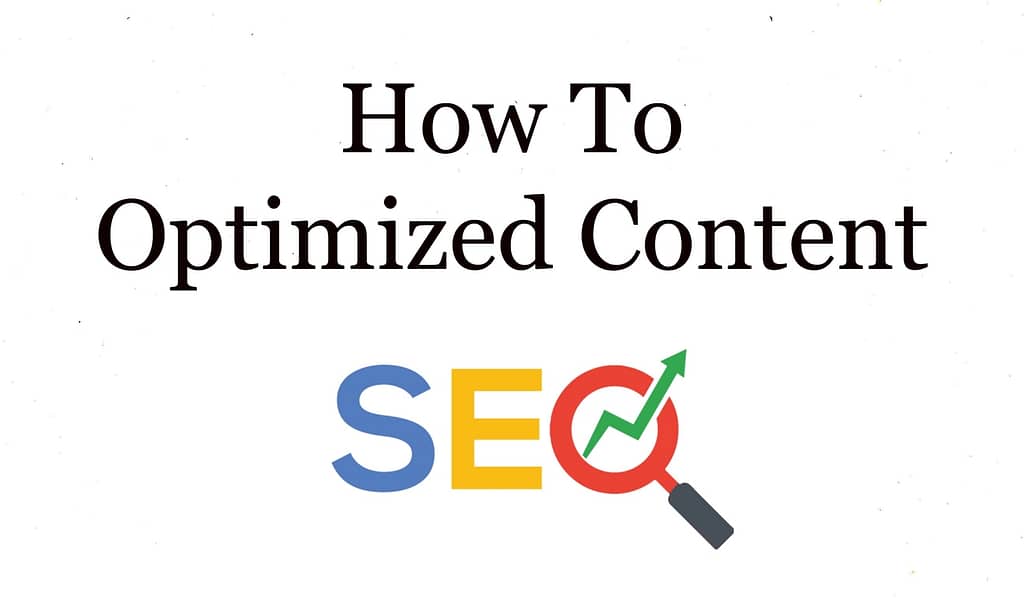 Now that you've determined the keywords to target and what kind of content to produce for them, it's time to get to work.
      It's most likely one of these two – a blog post or a product/service page – and the same SEO optimization principles apply to all of these content types.
Keyword-rich URL
     The main keyword you're targeting should always be in your URL, and it shouldn't be too long.
     For example, if my keyword is "Google first page guaranteed," my URL will be attentionalways.com/google-first-page-guaranteed/; many people use the whole title in the URL.
     That will make the URL too long, so I recommend you don't do it.
Main keywords in the Title
     The title of your page/post should include your main keywords.
    You can get away with using synonyms in the title because Google treats them equally, but using anything completely unrelated is a poor SEO practice.
Add modifiers to the title
     Modifiers in the title such as best, top, cheapest, (current year), and so on help you get more traffic with less effort.
      When searching online, many people add modifiers like these to the main keyword. Adding modifiers isn't strictly required, but it's a nice and fast way to increase traffic.
Wrap title in H1
      While WordPress wraps the title in an H1 tag, several themes override this by default. Check to see if this is the case on your site and make the necessary changes.
Use multimedia like Images and videos
     Using photos and videos in your posts not only improves the appearance of your content, but also increases the amount of time a user spends on your blog, which is beneficial to SEO.
Subheading in the H2 tag
All your subheadings should be in the H2 tag.
Link out to external resources
      Linking to relevant external tools aids Google in determining the subject of your page and enhances the user experience.
     All the images you use should have an alt tag. Don't leave it blank.
Long content (Google loves it)
Google has recently shown a preference for longer content over shorter content. Aim for at least 1500 words per page.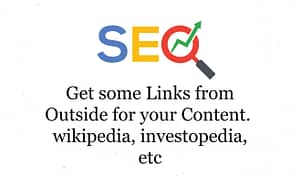 For any sort of website to receive traffic, it must first appear on Google's front page. And, unless you have a large site with a lot of authority, you'll need backlinks (sometimes a lot of them) to get to the first page.
There should be two types of links on the page:
Internal links are those that lead to other pages on your website. Many people ignore the fact that these are the easiest to obtain.
There are two advantages of using internal connections. Internal links not only help your pages rise in the Google rankings, but they also keep visitors on your site longer, which is another Google ranking factor.
External links (i.e., links from other websites) work similarly to votes.
The higher your site ranks in Google, the more votes you have. Backlinks are also the most important ranking factor in Google. However, they are difficult to come by on their own.
To receive links, you must develop and implement a link-building strategy for your website.
6. Track its Google ranking and traffic

     The next step is to begin tracking where your pages rank for their target keywords so you can receive real-time feedback on your link-building efforts.
     The pages will either shift up or remain in the same place as you create links, optimize content, increase site pace, or make some other improvements to your site, giving you insight into which activities are helping you the most SEO-wise.
     You can double down on activities that result in an improvement in rankings and cut down on activities that produce no or negative results by using the shift in ranking positions as input.
      You can start monitoring your rankings with Serptoday's free plan. Serptoday is particularly beneficial to bloggers who are just getting started and do not have a lot of resources.
 ➡ 22+ Best Bitcoin Mining Software's for PC
7. Optimize the page after it gets to Page One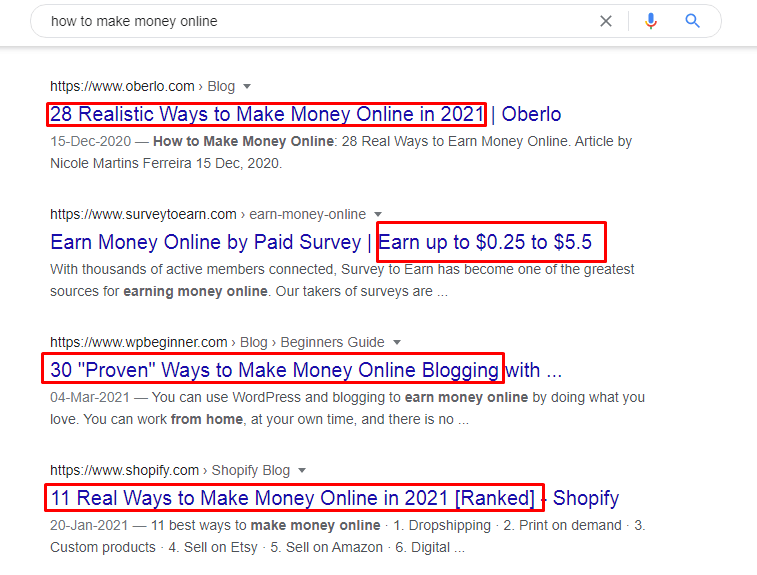 After your page gets to page 1 for the target keyword, new ranking variables like Click-through rate, dwell time, etc will kick in.
To keep your page on page 1 you not only have to keep building ties, but you also have to do the following:
Optimize the title tag and meta description for the most clicks from Google
     These are the first two items a searcher sees before deciding to visit your website.
      Dressing up for an event is similar to optimizing the title and meta tag. Before they decide to speak to you, people judge you based on how you look (in our case, visit our page)
As an example of how CTR affects ranking, consider the following:
     Let's say you're in position 6 and you change your title and meta summary to make them more convincing than the websites that rank higher.
      When Google notices that a page ranking in position 6 receives more clicks than higher-ranking sites, it will promote the page higher.
Improve Dwell Time
      The interval between when a user clicks on a search result and when they return from the page to the search results is known as dwell time.
      The longer they remain on your website, the better because Google considers a longer dwell period to be a sign of a positive user experience.
Here are four ways to increase dwell time: 
Keep updating the content of the pages
      Users are more impressed with your content and remain on your site longer if you regularly update the page with current information.
      Building internal ties, as stated in the fifth point, aids in increasing dwell time. Internal linking provides readers with additional content to read.
     This is particularly effective when linking to articles that are closely linked.
.Improve the speed of your website
     Google launched the "speed upgrade" in July 2018, rewarding quicker sites over their slower counterparts. This is how pace has a direct effect on your rankings. The dwell time has an indirect influence.
Make the Content pleasant to the eyes
      It is easier for readers to absorb everything you have on the page if the page is attractive and well-designed.
      And if they find the material easy to digest, they are more likely to linger on the website and finish reading it.
      There you have it – seven quick steps to a first-page Google ranking. It's important to note that I said "simple" rather than "simple" because ranking on Google is no longer simple. However, if you work smartly, you will undoubtedly succeed.
      To rank on Google these days, you must put in a lot of continuous hard work, but the benefits are well worth it. Here's a list of digital marketing resources to make it a little easier for you.
Here are some more SEO pointers to help you further optimize your platform!
Rank on First Page of Google
        True, Google's mission is to rank popular sites, and traffic is a measure of popularity. It's also true that Google has a good idea of ​​how much traffic you get (whether or not you have Google Analytics installed). But they do not use traffic as a metric for search results for the simple reason that it is very noisy and very easy to manipulate. in short. , There are even better ways for them to establish and measure the popularity of your site.
There are a number of reasons why this superstition has arisen. One is that Google uses links as a measure of popularity, and more links will bring more traffic (so this is a great case of reciprocity which is confusing), and so is social media activity. Is also
Rank on First Page
        Unfortunately, most businesses aren't really sure where to start when it comes to getting to the top of Google. Either they think that just building a website will significantly increase their results and they think that only "exclusive" businesses reach the top results of Google.
The fact is that your business is at the top of the Google rankings. Depending on what you're doing and how competitive it is, it may be easier than you think.
Rank on First Page of Google in 2021
         There are many elements to SEO, including keyword ranking and website optimization. So you may need help from an SEO marketing company to keep up with the latest trends and techniques.
For example, in the early days of SEO digital marketing, a site owner can get high rankings in search engines by adding a lot of search terms to their web page. Sometimes irrelevant terms are added just to improve Google search rankings.
This is no longer a good practice. Search engines are now trained to support advanced sites and content, so SEO still has more to offer than just scattering your site with specific keywords or phrases.
What is a good page load speed?
        If you want a quick response, Google's recommended page load time is less than two seconds: "Two seconds is the threshold for acceptance of an e-commerce website. At Google, our goal is less than half a second. Fast, especially when it comes to customer service.
How long does it take to rank on  first page of Google?
     According to various sources, the average time to rank on Google through website optimization (SEO) techniques is about three to six months. That's right – it usually takes 90-180 days to jump to Google results depending on the competition in your industry and the popularity of your keywords.
How hard is it to get on the first page of Google?
      Rank on the first page is difficult but not impossible. If it is important for your business to rank this keyword, then you should still be behind it. Just be aware that you probably won't rank for it quickly, and that you may need to build a lot more backlinks than you can rank.
What is first page ranking?
      If you write more content, you get a better shot at ranking on the first page of Google. The more you write, the more pages you estimate, and the more traffic you bring to your site. If you're writing 5-10 posts a month, it's still not enough.
Can I pay Google to rank higher?
       Improving your SEO can help your rank on the first page of google search by making your page more relevant to users. Search listings are free, and no one can pay for better rankings, as Google is committed to keeping our search content useful and reliable.
How does my page rank on Google?
      In short, Google was literally formed based on Sergey Byrne's idea that information on the web could be categorized based on the popularity of a page link, and that as many links as possible per page indicates, its status is so high.
Does SEO increase traffic?
     Search engine optimization, or SEO, is a key engine for any digital marketing campaign. It's an essential technique for getting better Google search rankings, which results in better traffic to your website and increases sales and conversions.
What is the fastest way to rank on Google Page 1?
     There is no surefire way to get the # 1 ranking on Google. However, targeting the right keywords and audience can significantly increase your chances. Follow it to create tons of better content and promote it, and you're good! Be good That higher ranking may be faster than you think.
How many keywords should I target per page?
      At least one, one; Some pages may have a single focus that answers only one question. More than likely, you'll want to target two or three keywords per page, even if they're just variables. More than four are a little crowded. However, each page has only one title tag and meta description.
What are Google SEO tools?
      An SEO (search engine optimization) expert is someone who is trained to improve your visibility on search engines. By following this guide, you should learn enough to visit the site you want. Also, consider hiring an SEO professional who can help you audit your pages.
How important is Page Speed for SEO?
        The simple answer is that page speed affects SEO. Page speed is a direct ranking factor, a fact that is even better known after Google's algorithm speed update. However, speed can also indirectly affect rankings by increasing bounce rates and reducing stay time.
Can My Website Rank on First Page of Google
Rank on First Page of Google With Seo
Seo Can Help to Rank on First Page of Google
Rank on First Page of Google
How to Rank on First Page of Google
How to Get Website on Google First Page
How to Rank Website on Google
How to Rank Higher on Google
How to Rank Website on Google First Page